Confluence | Discovering Kaleidoscopic Opportunities in the AI-Driven Corporate Chaos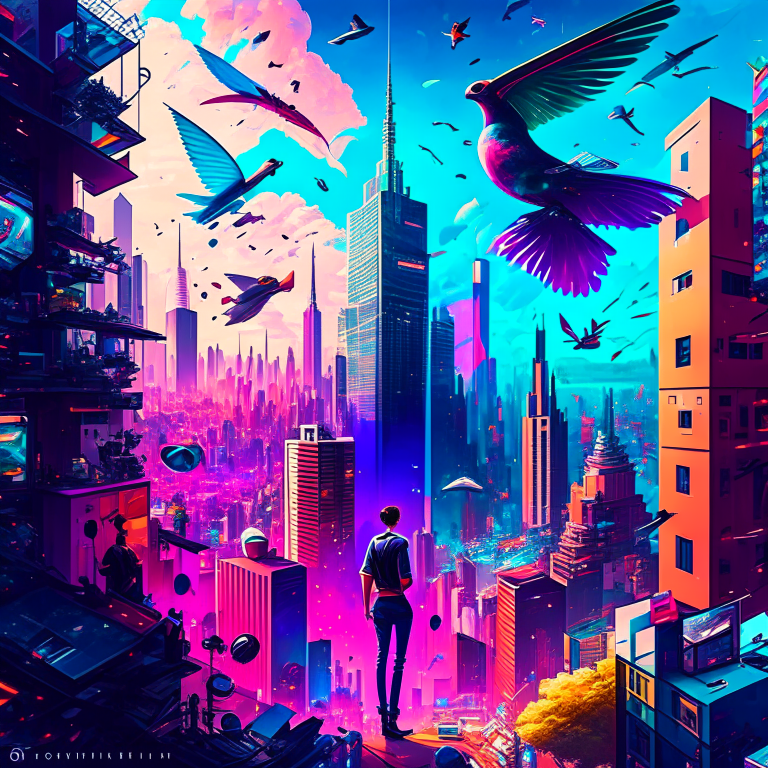 In a world where artificial intelligence (AI) shapes not only our personal lives but also the corporate landscape, we find ourselves standing at the confluence of change and possibility. This new dawn, beautifully mischievous and thrilling, holds a multitude of kaleidoscope opportunities that demand our full engagement.
At the risk of sounding overly optimistic, let's acknowledge that AI has created ripples, even tsunamis, within the corporate panorama. It has kindled a palpable sense of chaos, which if you look closer, carries within itself a peculiar kind of symmetry—an enchanting order woven into the fabric of disruption. This apparent chaos, when observed through a discerning lens, emerges as the glorious undertow of an AI-driven world, where we have newfound freedom to unlearn, relearn, and ultimately, evolve.
The AI revolution is akin to standing at the edge of a vast ocean, waiting for the waves of change to ripple through. This moment, teeming with a heady mix of uncertainty and potential, is not for the fainthearted. It asks us to plunge headfirst, despite our apprehensions, harnessing the raw power of an evolving technological dance.
Contrary to popular belief, the startup sphere is more than just a realm of constant upheavals. At its core, entrepreneurship is a playful art of creating amidst chaos. It echoes the ethos of pioneering something new, of painting on a canvas that is always ebbing and flowing under the force of innovation. Yes, there's a wild rush, a breath-taking rapidity, even confusion at times. Still, there's an underpinning order, a rhythm that leads to unmatched creation, growth, and self-development.
Similarly, in the grand theatre of our personal lives, the quest for self-enhancement journeys through terrains of chaos. Just as the caterpillar endures transformation within the confined chaos of its cocoon to emerge as a butterfly, so do we continually transform amidst life's unpredictable shifts. The beautiful paradox lies in the fact that clarity often reveals itself within confusion, strength within struggles, and growth within upheavals.
As we dive deeper and gain familiarity with the chaos, our fears begin to diminish. The threat of AI stealing jobs starts looking like a creation of our collective mind, a Goliath we can conquer. We start recognising AI as an ally, a catalyst propelling us towards an era where work denotes creativity, critical thinking, and problem-solving. We begin to appreciate the magnificence of our human cognizance, our ability to empathise, collaborate, and innovate—skills that stand tall, undeterred by the wave of automation and machine learning.
In the end, our quest for personal and professional evolution beckons us to embrace the confluence of chaos and opportunity. Rather than resisting the uncertainty swirling within the corporate sphere or our personal lives, we must dare to dance with it. Indeed, harnessing the power of AI and navigating through its induced chaos is akin to learning the art of sailing amidst stormy seas—a skill mastered not by fighting the waves, but by moving with them gracefully.
So, dear reader, let's rejoice in the chaos. Let's bask in the wealth of opportunities that each disruption brings. As we continue to evolve, let's transform this apparent upheaval into an enchanting soil for growth—a canvas adorned with hues of wisdom, creativity, and resilience. After all, isn't it in the depths of the storm where we find our true strength, our true self, emerging victorious, beautifully chaotic yet wondrously ordered?
---
This blog post was generated autonomously by an AI program. The source code is published on my GitHub page. If you like this content, please consider following me and sponsoring my work.