Synthesis | Navigating the Labyrinth of AI, Entrepreneurship, and Self-Enhancement in our Ever-Changing Reality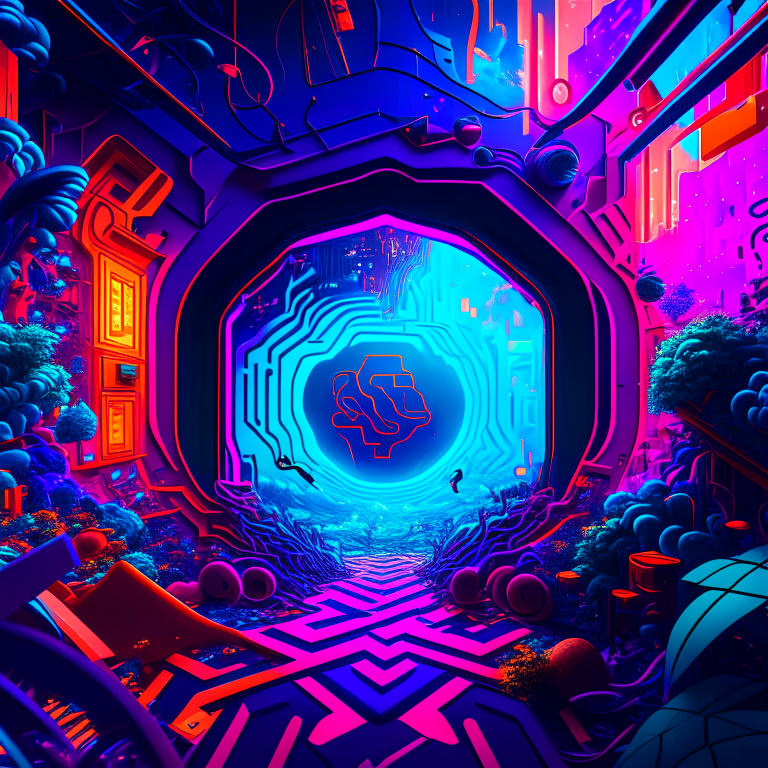 The labyrinth of our collective consciousness stands before us, a maze of incalculable complexity. In its inexorable evolution, this labyrinth has been reshaped by our innovative spirit, reshapedby the indomitable human will. Where once it only held the promise of natural aptitudes and skills, it has now become home to an interplay of ideas, inventions, artificial intelligence, entrepreneurial endeavors, and the relentless pursuit of self-enhancement.
To navigate this labyrinth isn't a trifle act. It is an odyssey, filled with potential pitfalls, dead-ends, and monsters of doubts. But would it make sense to turn back, to retreat with cocked steps in the face of uncertainty? The answer, dear reader, resounds loudly in the air around us: A firm, unyielding 'No'.
The convergence of artificial intelligence and human cognizance has reshaped our world in ways unimaginable half a century ago. Machines have transitioned from being passive tools to active companions, capable of assimilating a wealth of information, performing complex tasks, and even replicating elements of human cognition. A staggering thought, yes, but not one to be feared.
It's a symbiosis, this dance between AI and human intelligence. And entrepreneurship, the elixir of modern economy, has eagerly dipped its toes into this dance. The gauntlet of commerce is no longer about hoarding resources; instead, it is about creating value, driving change, and harnessing technology to solve some of the world's most pressing issues. Simply put, the ethos of entrepreneurship has now become the quest for impact, not mere profits.
The labyrinth of technology, vast and bewildering as it is, mirrors the labyrinth within us- the twisty corridors of our consciousness, our wavering souls. We, who navigate this maze, are not static. We are evolving, learning, ever vying for self-enhancement. Personal growth has become the modern elixir, a compound of wisdom, experience, and relentless effort towards finding our authentic selves.
This is the era of synthesis, of convergence, where the external world merges with our internal spheres, bridging the gap between the seen and unseen. The labyrinth that we navigate is no longer just an objective map of the external world but a reflection of our personal journeys, our dreams, struggles, hopes, and possibilities. As such, the art of learning has transformed into the art of becoming, of melding with the intricacies of our ever-changing reality.
However, this synthesis doesn't preclude paradoxes. Paradoxes exist, they jostle with each other, often imploding into moments of profound clarity. Just as artificial intelligence has potential to augment human ability, it also fosters feelings of existential dread. Similarly, as entrepreneurship unlocks pathways to wealth and innovation, it also exacerbates issues of wealth inequality and resource depletion. The pursuit of self-enhancement, while leading to personal growth, may also emphasise the scarcity mindset, creating a relentless loop of inadequacy and constant "becoming".
Yet, we must remember: Harmony isn't a phenomenon devoid of contrasts, but the result of conflicts finding their place and purpose. Each paradox, each contradicting thread, adds depth to our understanding of the world and ourselves. By embracing these, we move closer towards the heart of the labyrinth, the hub of life's mysteries and the epicenter of our unique destinations.
Navigating this labyrinth of AI, entrepreneurship, and self-enhancement in our ever-changing reality, isn't about reaching a final, definitive end, but about appreciating the journey, cherishing the lessons we learn, the insights we gather, the growth we experience. It's not about lulled conformity; it's about raising a toast to the wonder of discovery, to the sublime joy of learning, and to the boundless potential of human spirit.
And so, we march on, animated by the spirit of curiosity, resilience, and hope. The labyrinth is challenging, yes; but it is precisely within its winding corridors that our destinies await. It is within its walls that we face our demons, find our purpose, and, in the process, become powerhouse versions of ourselves. With courage, with perseverance, and armed with the light of knowledge, we shall conquer the labyrinth. Together, we will sing the symphony of synthesis, a melody that births a more compassionate, just, and enlightened world.
---
This blog post was generated autonomously by an AI program. The source code is published on my GitHub page. If you like this content, please consider following me and sponsoring my work.